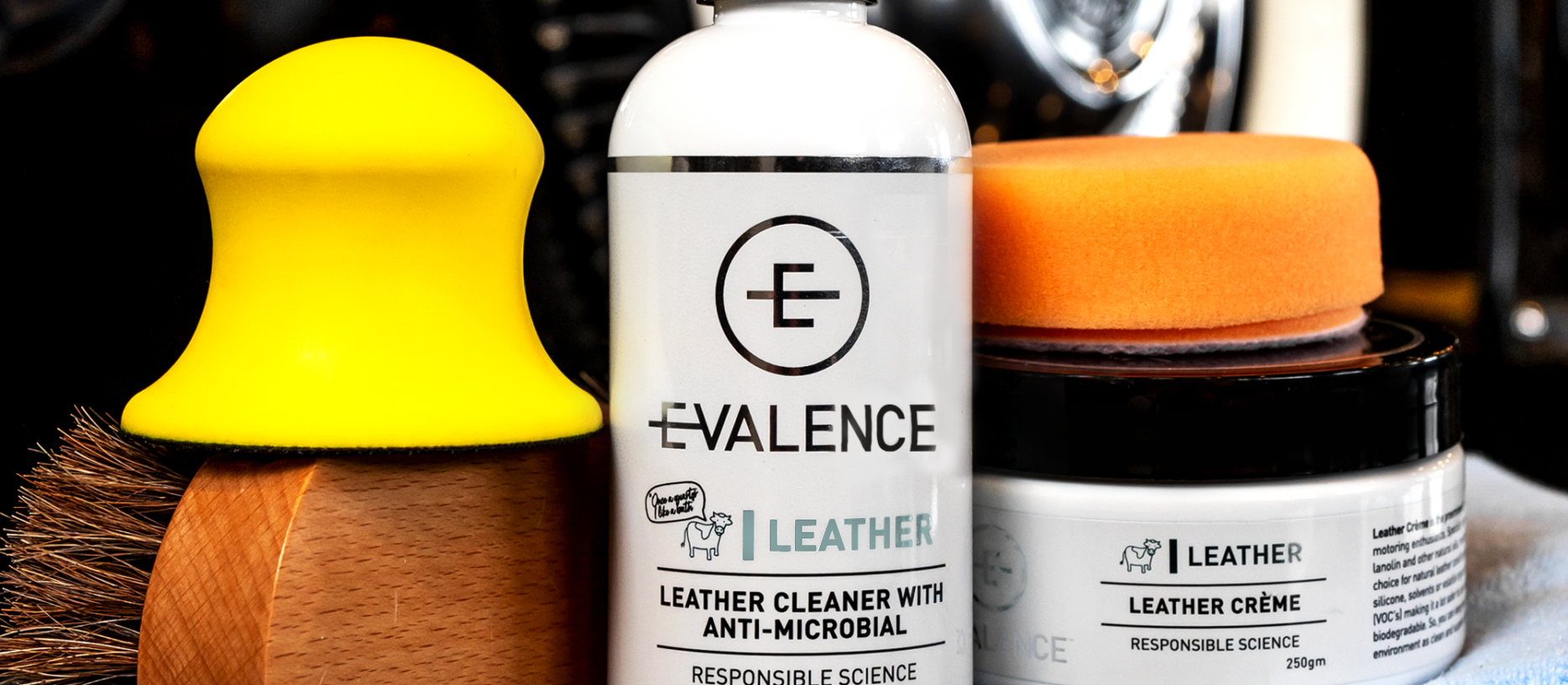 UPHOLSTERY & LEATHER CLEANING & CONDITIONING
andupholstry

Why clean & condition leather and other forms of upholstery?
This kit provides the best possible solution for upholstery and leather protection. Leather, natural or synthetic, needs to be cleaned and conditioned regularly.
Even over short periods of time, perspiration, food, liquid, dust, and in the case of automotive and aviation, road grime, salt (especially if you live by the sea), and other environmental contaminants will cause the leather to dry out and harden over time. Furthermore, if exposed to the sun's harmful UV rays, this hardening will accelerate, leading to creasing and tearing over time. Untreated, bacterial build-up will cause unsightly black spots and a foundation for breeding germs. E-Valence Leather Cleaner with Antimicrobial will clean without damaging the natural fibre and will eliminate blackspot whilst killing 99.9% of bacterial growth.
Once cleaned, the leather, natural or synthetic* should be reconditioned using E-Valence Leather Creme. This product contains natural leather oils and is the best and only way to recondition leather and its derivatives. Check out our video on this process.
Leather Upholstery should be cleaned and conditioned from new!
What is Microbial Growth?
Essentially, this is the build-up of bacteria over time. Accelerated mainly though not exclusively due to the effects of warm weather, humidity, moisture (water) nutrients and energy. For more information on the growth of microbials please follow the link below and read the paragraph "Factors Affecting Microbial Growth"
https://sitn.hms.harvard.edu/flash/2020/how-microbes-grow/
What is the best leather  and upholstery cleaning process?
Lightly vacuum the leather surface of the item you are about to clean.  And the full interior of the car, boat, or aircraft before commencing the cleaning process.
Wipe over the surfaces with a slightly dampened microfibre cloth.
Spray the Leather Cleaner onto the surface a section at a time and leave for about 15-30 seconds.
Agitate with an E-Valence Natural Fibre Leather Cleaning Brush, medium coarse sponge, or simply with a moist microfibre cloth. Work up and down and in a circular motion to ensure that you clean thoroughly as well as along the stitching.
Wipe off with a clean slightly moist 270-330 GSM microfibre cloth.
Leave the surface to dry before applying E-Valence Leather Creme.
Wipe the Leather Creme over the surface using either a soft sponge or clean 270 – 330 GSM microfibre cloth. Ensure that you wipe the creme down the stitching as this is a common place where long term damage may occur.
This process should be repeated every 3 months or as necessary.
Leather Cleaner with Antimicrobial may be used to clean suede. Do not enrich suede with Leather Creme.
Both E-Valence products may be used on leather lounges, leather topped desks, leather chairs, as well as leather coats, bags, and shoes. The photos below provide a good presentation of before and after.
To view the cleaning process please click on the link below.
Why condition leather?
Leather is micro-porous; it needs to breathe. Leather must be re-enriched with natural leather oils after cleaning. This is the only way to ensure leather stays in its natural state. Coatings that claim to "seal the leather and protect it" should be avoided as they will dry the leather, accelerating the possibility of cracking and splitting. Keeping leather and its derivatives in pristine condition is a two-step process. Clean first and enrich second.
At E-Valence we retail our product through furniture manufacturers, automotive, marine and aviation trimmers and leather specialty shops.
If you are in any doubt as to the condition of your leather, please don't hesitate to call us or visit one of our many specialists. They are listed on our website.
What practices should I avoid when cleaning leather?
Don't leave stains on the leather for too long. Clean them off as soon as practical. Having an appropriate leather cleaning agent at hand makes this process seamless.
Old household remedies such as vinegar, lemon juice etc. are exactly that, "old household remedies". Most of these solutions, whilst appearing to clean and decontaminate the surface, eventually cause the surface to dry-out, crack, and fade over time.
Avoid using ceramic sealants or any unnatural conditioning or enriching process.
If in doubt seek professional advice. Refer to the stockist's section on our website for professional users and retailers.
Can we recommend a Leather Cleaning Kit?
Yes we can. Its available through our many retailers and on our website.
E-Valence Leather Cleaning and Conditioning Kit
The kit contains, E-Valence Leather Cleaner with Antimicrobial, E-Valence Leather Crème, a soft natural fibre cleaning brush, a puk applicator, a soft sponge, and two microfibre cloths.
Summary
Like all things in life, if you keep ahead of the cleaning and enriching process, you will avoid an unrectifiable situation. Regular cleaning and conditioning will ensure your natural and synthetic leather products last a lifetime.
*Synthetic leathers (Faux Leather) include Leatherette, MB Text, BMW Sensatec.  Use E-Valence Leather Cleaner with Antimicrobial to clean vinyl and cloth surfaces.
Refer to the chart below
HIGHLY VERSATILE FORMULATIONS
Product
Comment
Cleaner
Creme
Leather
Natural (high quality).
Yes
Yes
Synthetic leather
Known by many names (BMW Sensatec, MB-Tex etc.).
Yes
Yes
Vinyl
Widely just know as vinyl.
Yes
Yes
Alcantara
Synthetic, suede-like material commonly used as seat surrounds.
Yes
No
Aniline (colouring dye)
Toxic Aromatic Amine (Organic Compound) used in dyes. Dyes like these that

have fasteners in them are to hold the tan in. Solvents, particularly heavy ones,

react on fasteners causing colour to release and tan to discolour.

Yes
Yes
Semi-aniline
As Above
Yes
Yes
Pull-up waxed
Normally created with Aniline dye. Colour varies because of pull-up. Careful of the sheen. Our leather crème is not high sheen. Will work just fine on them.
Yes
Yes
Pigmented
Layer of coloured pigment. Used for the dye of furniture.
Yes
Yes
By cast (Synthetic)
Lower grade with vinyl over it. Durable (low-cost option).

Shredded leather board used in cheap furniture.

Yes
Yes
Bonded & top coated
Bonding holds the colour on the upper which gives sheen.
Yes
Yes
PU
Shoe industry plastic not leather.
Yes
Yes
Nubuck
Very soft and porous. Natural and sanded leather. Presented as high grade.
Yes
Sparingly
Suede
Fuzzy finish bit like Nubuck. Colour can lech off. Marks easy. Treat small area first.
Yes
No