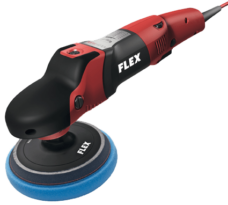 Flex PE 14-2 150 POLISHFLEX, variable-speed polisher
$915.86 GST Inclusive
PE 14-2 150 POLISHFLEX, variable-speed polisher with a high torque
The PE 14-2150 is a variable-speed direct drive professional polisher with high torque. It is ideal for cutting, slicing and buffing paint.
This polisher is recommended for professional use within the paint and detailing industry's and for enthusiasts with a broad and experienced range of paint correction knowledge.
Microprocessor electronics: step-less speed selection, tachogenerator-controlled constant speed, overload protection, re-start protection and temperature monitoring
Powerful 1400-watt motor with highly-efficient ventilator for optimum cooling
Continuous speed control trigger: for a gentle start (starting speed at setting 1 (380 rpm)) and a lock-on for continuous operation
Optimised air flow for optimum cooling of motor and gear. No annoying exhaust air for the user
Innovative combination of planetary and angular gears reduces noise to an absolute minimum
Flat gear head reduces distance to the surface. The machine can therefore be operated safely in any position.
Grip hood: ergonomically shaped with soft grip. The machine can be controlled with precision and is always comfortable yet secure to hold.
Spindle lock: It is ideally positioned to prevent operating error and does not interfere with the grip area.
With rubberised resting bar for safe setting down
4 metres PUR H05-BQF cable: wear-resistant, flexible and highly resistant to cuts and abrasions.
Made in Germany
To discuss your specific requirements please call 1300 845 498 or email info@e-valence.com.
Free delivery for orders over $100
For specific instructions on how to use this polisher, please call 1300 845 498 or email info@e-valence.com
Always wear safety goggles and protective clothing.