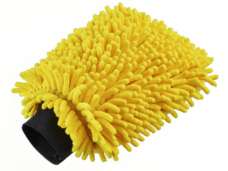 Microfibre Noodle Mitt
$19.95 GST Inclusive
Microfibre Noodle Wash Mitt recommended for washing with E-Valence Wash'n Seal with Carnauba Wax.
A separate Wash Mitt should be used for the washing of high grit surfaces such as the wheels and the vehicle under body.
Microfibre wash mitts and cloths are designed to lift the dirt off the surface. Other accessories may push the dirt across the surface resulting in swirl marks.
Always rinse the Wash Mitt in clean water during the washing process and before reuse.
After use, Noodle Wash Mitts may be washed in a washing machine however should never be placed in a tumble dryer.
As with other micro-fibre cloths, powdered detergent and fabric softeners should not be used.
For more information on the correct washing process please refer to our Post The Car Wash Process
Free delivery for orders over $100