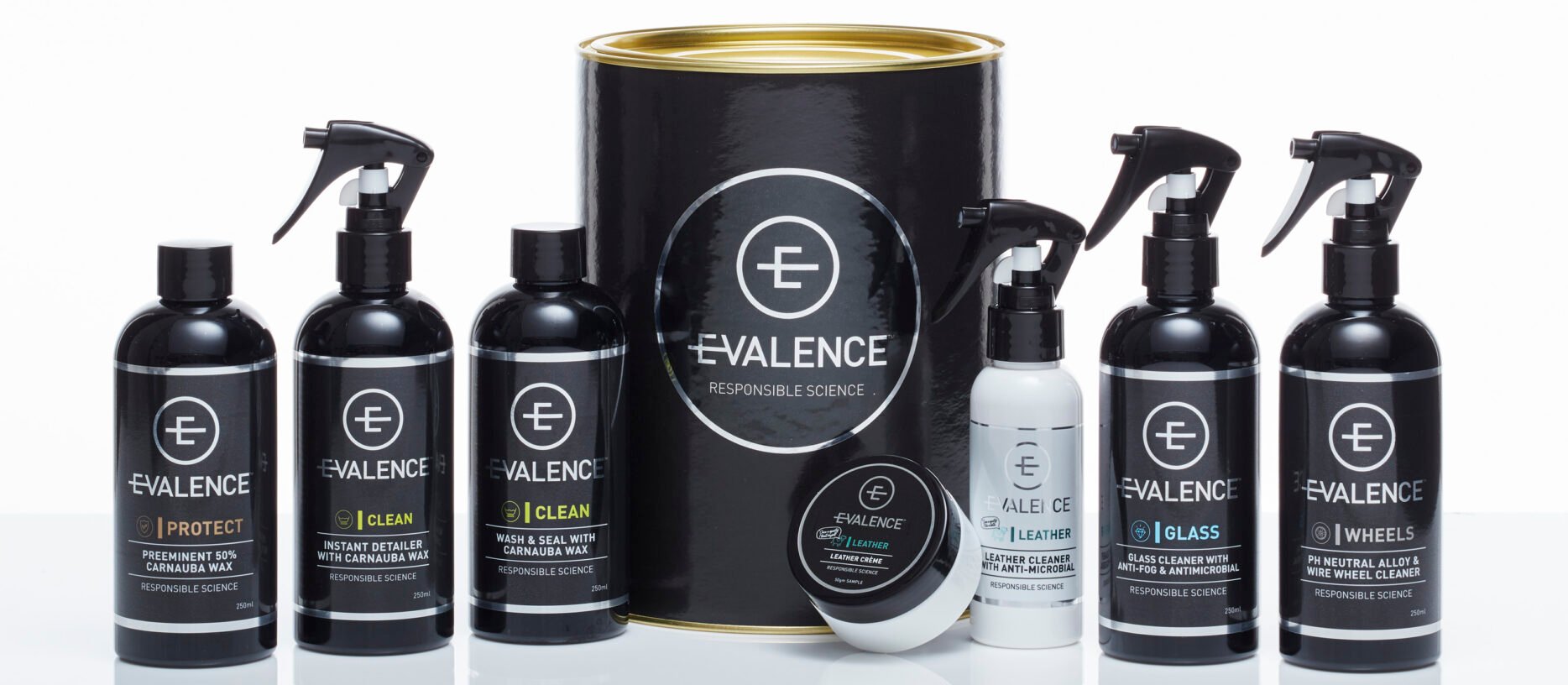 E-Valence Our Australian-Made Story
Proudly Australian, along with an ongoing commitment to engineering remarkably safe and world-leading detailing solutions, we strive to constantly credit and celebrate that all our achievements are the results created by the amazing country we are so fortunate to live (and work) in.
Proudly Australian means each step of the process, from product inception, manufacturing, testing and all the way through to application, involves a wide team of local, talented, and leading specialists.
Whilst most of our raw materials are imported, these materials are subsequently blended in our very own Hornsby facility, with Australian additives included to produce the final formulas.
Following the contents, each of our products are then bottled, packaged, and promoted using carefully selected Australian-made equipment, materials, and talent. These include:
Our entire range of bottles is manufactured by Ant Packaging in their 100% carbon-neutral plant in Bangalow, NSW, with a large percentage of production from recyclable PET retrieved from NSW waste.
Our bottling uses a compressed air stainless steel filling machine manufactured by Asset Packaging in Castle Hill, NSW.
Labels created by AB Design, a Sunshine Coast-based creative agency led by Anita Best.
Labels produced by Luminar Group in Riverstone, NSW, in their state-of-the-art production facility, which has been family-owned and operated by the Ellis family for 15 years.
Label application carried out in our Hornsby facility using equipment supplied by Matthews Intelligent Identification in Silverwater, NSW.
Bottles capped and sealed using equipment manufactured again by Asset Packaging.
Composite cans for the professional presentation of our gift packs are made in Moorebank by Irwin Packaging.
Products packed in Australian-made recycled cardboard boxes, supplied to us by Enmore Box & Case Factory, in Mortdale, NSW.
Global marketing created and executed in our Pymble and Hornsby offices by our marketing team led by Will Frew and Steven Iannello.
Signage and point of sale material manufactured by Australian owned and operated family business, Shockwave Signs, in Hornsby, NSW.
Display Stand Marquee by Betta Marquee of Condell Park.
Our Australian, American and UK websites designed by Jala Design, Bella Vista NSW.
Throughout all these touch points, we assure we continue to support and invest in local industry, as now more than ever it is crucial, we do so. And truth be told, what we can produce right here on home soil, is simply second to none.
We're extremely proud of what we've been able to achieve, with E-Valence becoming a testament to the unparalleled quality of Australian-made products and services.
Charlie Frew­­­