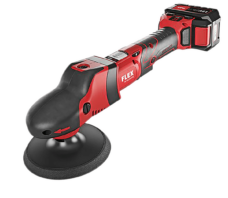 FLEX PE 150 18.0-EC Cordless Polisher
$1,229.95 GST Inclusive
The Flex PE 150 18.0- EC Cordless Polisher with its brush less motor and electronic system is the first choice cordless rotary polisher for industry professionals.
LED battery capacity display.
Continuous speed control trigger: for a gentle start and a lock-on for continuous operation.
Innovative combination of planetary and angular gears reduces noise to an absolute minimum.
Flat gear head reduces distance to the surface allowing the polisher to be operated safely in any position.
The grip hood is ergonomically shaped with a soft-grip allowing the polisher to be controlled with comport and precision.
Spindle lock: It is ideally positioned to prevent operating error and does not interfere with the grip area.
With rubberised resting bar for safe setting down
Polishes with low speed and high torque, e. g. for heat-sensitive surfaces
Ideal for automotive, maritime and aviation applications.
The first choice for professionals when working with E-Valence Cutting Slicing and Buffing Polish
Please call 1300 845 498 to discuss your specific requirements
Made in Germany
Free delivery for orders over $100
Ensure the polisher is horizontal to the polishing surface.
Always wear gloves and safety glasses when polishing.