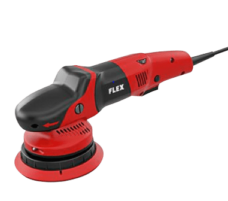 Flex XFE 7-15-150 Random Orbital Polisher
$861.95 GST Inclusive
Flex XFE 7-15-150 Random Orbital Polisher
The Flex XFE 7-15 150 is a random orbital polisher specifically designed with the professional detailer and concours enthusiast in mind. Its free-spinning drive makes it the perfect polisher for the removal of lite scratches and holograms.
VR microprocessor control: with tachogenerator constant speed control, soft start, continuous speed control trigger, restart protection after power failure, overload protection, temperature monitoring and speed selection.
Free-spinning drive for hologram-free finishing
15 mm orbit for high efficiency
Continuous speed control trigger: for a gentle start and a lock-on for continuous operation
Cushioned special hook and loop pad for polishing.
Counterweight for smoother operation
Optimised air flow for optimum cooling of motor and gear. No annoying exhaust air for the user
Flat gear head reduces distance to the surface. The machine can therefore be operated safely in any position.
Grip hood: ergonomically shaped with soft grip. The machine can be controlled with precision and is always comfortable yet secure to hold.
Low heat generation on the surface makes it ideal for temperature-sensitive paints
Made in Germany
To discuss your specific requirements please call 1300 845 498 or email info@e-valence.com.
Free delivery for orders over $100