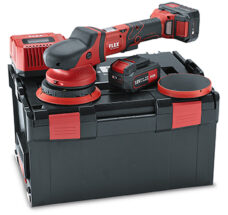 FLEX XFE 15 150 Cordless Polisher
$1,229.95 GST Inclusive
The Flex XFE 15 150 Cordless Polisher is the first choice for professionals and motoring enthusiasts.
Incorporating numerous valued features, it brings together a seamless polishing experience.
First of all, the electronic management system (EMS) and brush less motor increase the efficiency.
Whilst protecting the machine and thus extending its service life.
A prominent LED battery indicates remaining usable charge.
A 15 mm orbit for high efficiency and a free-spinning drive for hologram-free finishing.
Continuous speed control trigger: for a gentle start and a lock-on for continuous operation.
Cushioned special hook and loop pad for polishing and counterweight for smoother operation.
The polisher may be operated safely in any position because it's flat gear head reduces the distance to the polishing surface.
 Comfortable to control due to the ergonomic shape and soft grip of its hood.
Low heat generation on the surface makes it ideal for temperature-sensitive paints.
The first choice when applying E-Valence Medium Fine Polish.
Please call 1300 845 498 to discuss the FLEX range and your specific requirements.
Made in Germany.
Free delivery for orders over $100
Keep the polishing pad flat on the paint surface.
Always wear gloves and safety glasses when polishing.